Several homeowners resort to painting kitchen cabinets as a perfect alternative to replacing kitchen cabinets, which is a cost-intensive project. Kitchen cabinets can be painted at a fraction of the cost of replacing them. By following the right procedures, you can restore the luster and aesthetics of your cabinets by carefully preparing the cabinets' surface and applying high-quality cabinet paint.
Although cabinets come in different finishes, they lose their shine and aesthetics over time due to stains, wear, and tear resulting from the frequency of use. Regardless, instead of replacing your kitchen cabinets, you can have a new finish that can endure repeated touching, stains, food splashes, and liquid spilling.
It would interest you that painting kitchen cabinets requires using the paints that are designated primarily for cabinets. This will guarantee the best result and cause a significant transformation in your kitchen.
What Is the Best Paint to Use On Kitchen Cabinets? 
It is good to know that not all paints can be applied to kitchen cabinets. The surface of the cabinets and cupboards are different from the walls' surfaces. As a result, certain paints are made, especially for painting kitchen cupboards and cabinets. Here are some of the paints you can use to paint kitchen cabinets.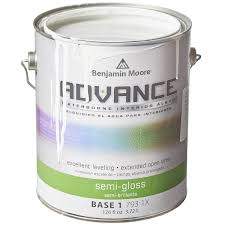 Benjamin Moore Advance Interior Satin Paint
Paints with high gloss content are usually the best suited for cabinets and cupboards. The reason is that high gloss ensures lower porosity and fewer fingerprints or stains. As a result, for a moderate sheen like satin for cabinets, choose Benjamin Moore's Advance Satin Paint. It creates a silky, satin sheen, unlike the mirror-like sheen of full gloss paints.
Benjamin Moore Advance had an extensive palette of more than 3500 colors. This paint is the favorite of many professional painters due to its low viscosity; they allow faster painting. However, it retains its look after drying with edges appearing sharp, crisp, and precise.
Although Benjamin Moore Advance is a water-based paint, it behaves like oil-based or alkyd paint. As a result, you can use warm water to clean it up.
Farrow and Ball Full Gloss Paint
Farrow and Ball is one of the best paints for cupboards and cabinets. It is available in a wide variety of innovative colors that allow painting kitchen cabinets to meet the color theme for the kitchen or bathroom. Besides, the paint is also esteemed for its durability and ability to withstand the frequency of being touched.
Farrow and Ball Full Gloss Paint has about 148 colors and can withstand high impact. Also, it can be wiped clean or washed because it is 95% gloss. Meanwhile, Farrow and Ball also has matte finish type that is only 2% gloss. You can choose the kind of finish you intend for your kitchen cabinets.
With Farrow and Ball Full Gloss, you can achieve a mirror-like glossy cupboard surface. However, this brand of paint is more expensive than its counterparts.
Europe Eurolux Acrylic Paint's Fine Paints
This paint is the professional's most preferred paint for cabinets, cupboards, doors, and trims. You can rely on Fine Paint of Europe for white cabinets that will not turn to yellow after some time. The paint is non-yellowing, regardless of any conditions. It is best suited for painting kitchen cabinets, as it fixes the issues of wood grain patterns.
Rust-Oleum Cabinet Transformations System
When you need the paint that goes beyond painting but also provides coating, Rust-Oleum Cabinet Transformation is all you need. It has a multi-layered system that offers a translucent protected surface after completion. Meanwhile, you may not sand or clean before painting by using Cabinet Transformations Deglosser. 
Valspar Cabinet Enamel Semi-Gloss Latex Interior Paint
This is another perfect paint for cabinets and cupboards. It is a latex paint with similarity with oil-based paint because it is enhanced with oil. As a result, the paint ensures that the painted cabinets are free from smudge or streak. Meanwhile, you do not need petroleum products to clean up Valspar Cabinet Enamel – you need only warm water and a mild soap.
Insl-X Cabinet Coat
Insl-X Cabinet Coat is best suited for surfaces with adhesion issues. It can stick more than other paints for cabinets and cupboards. It also performs well on shiny surfaces like melamine and Formica. The paint is available in white enamel. 
Behr Alkyd Semi-Gloss Enamel Paint
This brand of paint is specially made to paint surfaces expected to be washable and durable. Although it is water-based, it has most features of oil-based paint. It is reliable, strong, and self-leveling. You can achieve the best results with this paint without breaking the bank.
Is Painting Kitchen Cabinets a Good Idea?
Painting kitchen cabinets is one of the most cost-effective and best ways to give your cabinets a new look. Instead of replacing your full kitchen cabinets, you can spruce them up with the right paint. You only have to follow the correct procedure, and your lack-luster cupboards will look like brand new.
Several reasons point to the fact that painting kitchen cabinets is the best way to go. Here are the reasons that prove that painting kitchen cabinets is a good idea.
Saves Cost
When your kitchen cabinets have become dull, painting them is an affordable alternative that costs less than other possibilities.
Retains Old Cabinets
You do not necessarily have to replace your cupboards; you can repaint them at a fraction of the cost of new. This allows you to retain your old cabinets. You can have your old cabinets recreated in new paint colors.
Saves the Ecosystem
Replacing your kitchen cabinets will increase the demand for wood, which will indirectly require the felling of trees. That will unavoidably affect the ecosystem. Instead, paint kitchen cabinets to preserve our world.
Money for Other Projects
Even if you are not compelled to replace your cupboards and cabinets, painting them is economically viable, as you will have money to cater to other expenses or home improvement projects.
Do You Have to Sand Cabinets Before Painting?
Painting cabinets is a detailed process, especially if the current shape of the cabinets is bad, like chipped, or warped, or other damages that need to be fixed before painting. Failure to take care of the dents and issues with the kitchen cabinets will make the outcome disappointing.
However, if you follow the right procedure, you will have great results. Before you start painting the cabinets, there is a need for adequate prep work. It is crucial to clean the cabinet's surface and cabinet doors, prep the wood, prime the cabinets, and sand in-between coats of paint to guarantee a topnotch finished product.
When Not to Sand Cabinets
Know that wood and moisture are enemies, and sanding down the cabinets to the wood makes it porous and vulnerable to moisture can sleep in or out if the wood. Besides, cabinets are prone to spills, splatters, and steam in the kitchen. As a result, sanding the cabinet could no more harm than good.
However, instead of sanding the cabinets before painting, use a rough, scrubbing pad with mineral spirits to clean the cabinet before priming. The spirits will remove grease, and the scrubbing pad will roughen up the surface to make the primer stick easily.
When to Sand the Cabinet
Sanding the cabinet before painting cannot be ruled out entirely to ensure the best results possible. Below are conditions that require sanding the cabinet:
When the old paint gas chipped.
When trying to charge the texture of the cabinets' surface
If you want to use water-based primer
When the cabinets have excessive scratches
When you want to smooth out the wood grain.
Special Note 
Although it is not compulsory to sand the cabinets before priming, you should ensure to sand lightly after priming and in-between each coat of paint. This will lengthen the painting time; however, it will ensure that the next coat goes on flawlessly and enhance the overall result.
Mistakes to Avoid When Painting Cabinets
There are some mistakes to avoid when painting kitchen cabinets if you care about the results of your efforts. By avoiding the mistakes below, the painted kitchen cabinets will look great. Here are some of the mistakes to avoid as much as possible.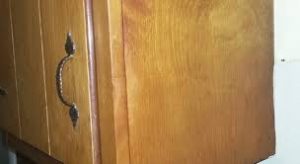 Forgetting to Remove Cabinet Doors
If you want the best result, take down the cabinet doors. You would be able to paint around the hardware and hinges without hassles.
Not Cleaning the Cabinet Doors
Cabinet doors are more exposed to stains due to opening and closing. As a result, you should apply a de-greaser on the doors to get rid of the grease on them before sanding and cleaning again.
Failing to Sand in-between Each Coat
After each coat, skim through the surface to look for rough areas and paint build-up, and sand the area with fine sandpaper. Clean off the dust before applying another coat. This will ensure a smooth surface after painting.
Ignoring Priming
Another mistake when painting kitchen cabinets is forgetting to prime the cabinets. Priming the cabinets will provide a covering for the wood and good surface to apply the paint. Do not skip this step.
Not Allowing the Paint to Cure Properly
Although it could be boring to watch the painted kitchen cabinets dry, you should allow the paint to cure completely before applying the second or third coat. Leave at least two to three hours between coats to avoid paint peeling.
Painting kitchen cabinets is a cost-efficient project to improve the look of your kitchen cabinets. Use the right paint and follow the correct procedure to ensure excellent results. Save cost and make your kitchen cabinets more beautiful and durable.
Have you read How to Paint a Room yet?