House Painters Bristol RI
Are you seeking a local painting contractor offering the best quality and value? You've discovered us! Experience our house painting services for decks, cabinets, and commercial projects.
Over the years, Our House Painters has provided clients across Rhode Island with a welcome balance of quality and professionalism. They are a locally owned company and are fully licensed. Our professionals are unmatched when you require neighborhood residential painting services for your house or apartment, and always make sure that you get the best results and service.
No matter what kind or size of the project you have, you are in good hands since our top priority is to provide you with a wonderful job and a stress-free and professional painting experience.
Painting Contractor Services
Since we are a full-service professional painting contractor, you can rely on us to complete any painting or staining project on schedule and within your financial budget.
Interior House Painting Services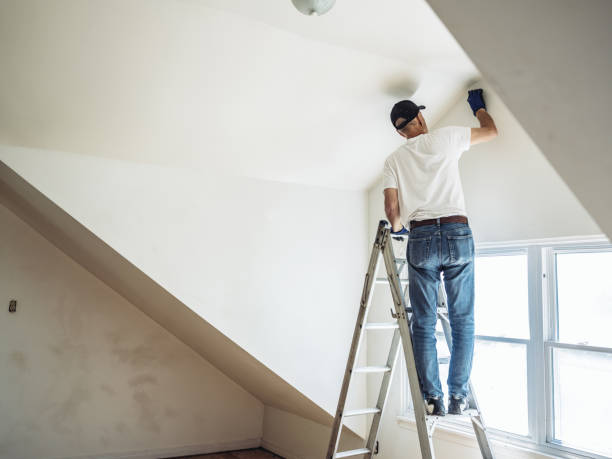 We have years of experience providing residential painting services and are skilled interior house painters. Our skilled crew will take the time to carefully consider your requirements and desired results before properly preparing your home for new paint and carrying out the work to the highest standard.
The painting project will result in a lovely new interior that highlights the character of your house.
protect
With fresh, clean plastic covering, we protect the furnishings and floors. We ensure every square inch of the area, protecting your floors with drop cloths.
Surface Preparation
By patching any holes or cracks in the ceiling and walls, sealing any stains, and scuff sanding any uneven surfaces, including old or loose paint, our painting staff gets the walls ready for interior painting. This provides the flat, clear canvas needed for a lovely finish.
Put fresh paint on
After priming any sections that were repaired in the previous step, we utilize premium paints for a uniform finish. The finish possibilities include flat, matte, eggshell, satin, semi-gloss, and high-gloss, to name a few. Beforehand, we will have reviewed the benefits of each with you so you can choose wisely. The time required will vary depending on the size of the job, but we always strive to work quickly and effectively.
Clean Up
You don't need to leave the house during this time; the paint will dry in a few hours. All the paint and covers are taken off by the staff. We carefully pay attention to thoroughly cleaning the work area as we sweep your floors and carpets and return everything to precisely where we found it.
Exterior House Painting Services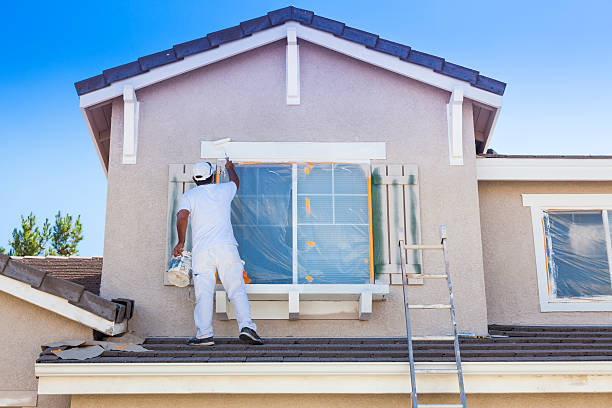 The best approach to improve the curb appeal of your home is to paint the exterior. Frank's House Painters makes it simpler than ever to completely transform your home without bother, problems, or concerns.
Our team of exterior professional painters provides the finest caliber outcomes, ensuring that you receive a finished product of which you can be genuinely proud and which will make your neighbors green with envy.
PRessure washing
Pressure washing is one of the most popular services provided by Frank's House Painters of Bristol, Rhode Island. Cleaning many different surfaces, such as siding, decks, patios, and more is a breeze with power washing.
Power washing is particularly crucial for home upkeep since it helps get rid of dirt, grime, and other build-ups that could eventually cause harm. Additionally, power washing is frequently necessary to prepare a surface for painting. This is so that the painting can produce the optimum effects, which call for a clean surface.
Stucco Painting and Repairs
Maintaining the stucco or EIFS covering your home is important, just like with any other exterior. In order to identify what services your property requires, Frank's House Painters of Bristol, Rhode Island will consult with you. We are very knowledgeable in both repairs and quality painting connected to these two materials.
Vinyl and Aluminum Siding Painting Services
Aluminum or vinyl siding may eventually appear faded and weathered. Frank's House Painters provides excellent professional aluminum and vinyl siding painting for a fair price for customers wishing to update the exterior of their houses or simply try out a new color.
Commercial Painting Services
Commercial industrial painting involves careful planning and execution on safety, scheduling, price, and communication to ensure the project is executed in the most effective manner feasible. We at Frank's House Painters in Bristol, Rhode Island, are aware of your work ethic and the potential impact on your business and we'll work with you and your staff to reduce the stress and inconvenience as much as possible.
Drywall repair
Drywall panel damage can be fixed or replaced, eradicating the signs of deterioration.
Exterior Painting
Whether the requested task requires adhering to established standards or making a novel, controversial statement, high-quality exterior painting can change an office building with color. We have the ability to paint on any surface, including wood, stucco, vinyl, aluminum, block, and cement board.
Schedule a Time and Book your Estimate Today
Our top priority is making sure you are happy. In case you have any queries at any time about any phase of the procedure, we are accommodating and ready to help. For all of your commercial painting needs, we offer a professional service at times that are convenient for you.